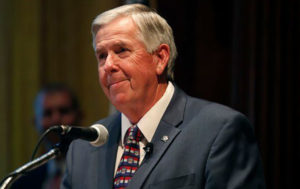 JEFFERSON CITY — Gov. Mike Parson will be kicking off a 33-stop bus tour on Saturday.
The "Mike Works Bus Tour" will be traveling with other government officials to various counties throughout Missouri to promote his approach to handling COVID-19, the state's economy and "protecting the American Dream," according to the news release.
Parson's stops on Saturday will be in Cole, Moniteau, Lafayette, Andrew and Clay counties. The first stop is at the "We Back the Blue" event in Cole County at 11 a.m.  From there, the bus will travel to Village Green Shopping Center in California, MO and will be there by 12:15. Parson will make his way to Lafayette County at 2:30 p.m. at Energy Transports Solutions in Bates City. The next stop is Clay County, where he will be outside the Clay County Courthouse in Liberty at 4 p.m. The final stop for the day is Byergo Angus Farms in Savannah at 5:45 p.m.