A bill vetoed by Governor Nixon in late June comes with controversy. Senate Bill 656, modifying provisions relating to firearms regarding open carry ordinances, self defense, unlawful use of weapons, and concealed carry permit fees.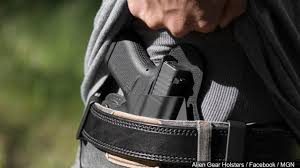 GOP lawmakers have vowed to attempt an override of the veto in September. Groups such as Moms Demand Action and Everytown for Gun Safety are hoping to sustain the veto in the override session, saying this bill is dangerous.
The bill text, according to house.mo.gov states
This act provides that the open carrying of a firearm may not be prohibited by a political subdivision for any person with a valid concealed carry endorsement or permit in his or her possession who presents such endorsement or permit upon the demand of a law enforcement officer. In addition, no person carrying a concealed or unconcealed handgun may be disarmed or physically restrained by a law enforcement officer unless under arrest or if there is no reasonable and articulable suspicion of criminal activity. No ordinance of a political subdivision may be construed to preclude the use of a firearm to defend property or persons.
Read the full bill text here.
Members of Moms Demand Action attended the Governor's Ham Breakfast Thursday at the State Fair, to discuss with lawmakers their goal of sustaining the veto in the override session.
According to an article on momsdemandaction.org Senate Bill 656 is "a dangerous gun bill that would dismantle Missouri's concealed carry permit requirement and let some violent criminals, certain repeat drug offenders, and people with no firearms safety training carry hidden, loaded handguns in public. SB 656 would also upend Missouri self-defense law and allow people to shoot to kill in public places, even when they can clearly and safely walk away from the danger. The bill would make Missouri the first new Stand Your Ground state since 2011."
However, Senator Brian Munzlinger, the sponsor of the bill, says what the governor failed to mention in his veto letter is that that bill does not allow people who currently aren't allowed to carry guns to do so regardless of whether they are concealed.
"It doesn't put guns in the hands of any additional people," Munzlinger said. "It will be a priority in September. One of our priorities is to allow law-abiding citizens to protect themselves and that's what this bill does."
Other Republicans in Missouri House and Senate expressed displeasure with the governor's veto, including Senate President Pro Tem Ron Richard, R-Joplin and Senate Majority Leader Mike Kehoe, R-Jefferson City.
In the governor's veto letter on June 27th, he stated Senate Bill 656 would "eliminate the current requirements that individuals obtain training, education, a background check and a permit in order to carry a concealed firearm in Missouri… the safeguards in Missouri's concealed carry system would be thrown out and any individual who is allowed to possess a firearm would be automatically allowed to carry it concealed. In doing so, the bill would render meaningless the existing authority of sheriffs to deny concealed carry permits, allowing individuals to legally carry a concealed firearm even though they have never been or would be denied a permit because their background check revealed criminal offenses or caused the sheriff to believe they posed a danger."
Read the full veto letter here.