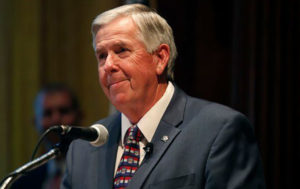 JEFFERSON CITY — The Missouri Department of Elementary and Secondary Education released procedural guidelines for screenings, physical distancing and face coverings for Missouri's public schools on July 9. Many area schools are planning to reopening school August 24-25.
Recommendations include:
• Screening students who exhibit any of the COVID-19 symptoms set forth by the CDC. Children should be visually inspected for signs and symptoms of illness as they enter school. Teachers should self-screen at home, since data shows adults are more likely to spread the coronavirus than children. Parents should keep children home when they feel ill.
• DESE recommends physical distancing of 3 to 6 feet in reducing viral transmission. Schools are asked to keep students within the same group of students and adults, instead of rotating throughout the school building. Schools are strongly encouraged to assign seating of students and keep records to aid in identifying contact tracing, when needed.
Orrick High School Principal Michelle Wityk recently told KMZU her school is considering keeping students in smaller groups to slow the spread of the virus. During PE class, students will likely be assigned a piece of equipment, like a basketball, and only use that item. After the class period, equipment would be disinfected, she says.
Other DESE physical distancing considerations include:
Place desks in the same direction so students do not sit face-to-face.
Place physical distancing cues throughout the building, especially in hallways, cafeterias, restrooms and other locations where lines assemble.
Require hand hygiene before and after students move from one space to another
within the building.
Assign seating on school buses and encourage the use of face masks. Require bus drivers to wear face masks and face shields/eye protection.
Keep students in assigned groups for lunch, or deliver lunch to classrooms or have multiple lunch shifts.
Consider having chorus and music classes outdoors, when possible. Socially distance indoors.
Face masks/coverings: When students cannot physically distance, like hallways, face coverings are recommended. Students in middle and high schools are more likely to follow proper usage of masks to protect themselves, DESE says, so usage of masks are recommended. The organization strongly recommends teachers and staff to wear face masks, as well.
. . .
On July 8, Ray County school administrators met with the county commission regarding the financial implications of reopening in late August.
Securing effective cleaning supplies and disinfectants against COVID-19 is another key effort in the fight against the coronavirus.
"We're trying to figure out on what we can get — and what will be effective," the Orrick principal says. "Perhaps the stuff we were using before might not have had the alcohol content in it that we need to actually be effective against the virus."
Ray County Health Administrator Shelby Spor says Clorox wipes and hand sanitizer are is short supply — even for her department to obtain. And with those items in short supply, prices have soared.
"That been the case with a lot of disinfectant wipes. The prices have shot up. That's kind of a barrier to access, too. The price a lot to do with that," Spor says.
At his Thursday press conference, Gov. Mike Parson says everyone should expect COVID-19 to be present at schools and universities.
"That virus will be in the schools. I don't think there's any reason for us not to think it's going to be there. It'll be in the universities." Parson said. "And I think it's  important that the public knows that, the parents know that, and the schools are very aware of that. When school starts, somebody in there is going to have that virus."
When members of the CDC left Missouri on July 9, they stressed the need to quickly follow up with contact tracing of positive cases, Dr. Randall Williams, Missouri Department of Health director said. Parson said yesterday county commissions should use part of the federal CARES Act funding to hire at least one additional contact tracer to coordinate with regional efforts.
"I think the one thing that's been a little frustrating to me as governor — the two things you know you need to do is testing and contact tracing. So, if there's a priority for the counties, if you're trying to search for some place to spend the money, that's critical. You need to do that more than ever to help your communities. I would encourage all county commissioners right now, take a look at your own school systems," Parson said.