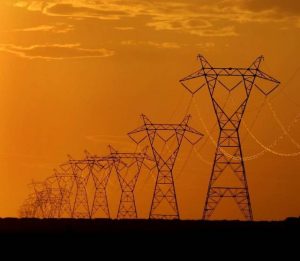 The Grain Belt Express Clean Line LLC has filed another application to construct their transmission line through Missouri.
The Missouri Public Service Commission announced August 31, applications to intervene and participate in the case should be filed no later than September 14, 2016.
A release by the Missouri PSC indicates the most recent denial of an application filed by Grain Belt Express was due to a failure to prove the line was 'necessary or convenient for the public service.'
Opponents of Houston based Clean Line Energy have anticipated the filing.  So far Clean Line has been denied certification as a utility in Missouri.   Clean Line is responsible for the proposed, Grain Belt Express, which would cross Kansas, Missouri, Illinois, and Indiana. The transmission line and some facilities will run through several of Missouri's counties:  Buchanan, Clinton, Caldwell, Carroll, Chariton, Randolph, Monroe, and Ralls.  The lines would transmit wind power from plains states farther east.
The appeal of an Illinois permit filed by GBE came about because of Grain Belt's incorrectly filed application in that state.  It claimed to be a public utility.  In Missouri, it claimed it was not a public utility in order to get around a required notice prior to appeal.
The criteria used by Missouri's PSC, and so far met by GBE, included that Grain Belt was qualified with the financial ability to provide the service.  Three out of five critera, however, were not met.  According to the commission, proof was not provided that there is a need for the project, that it was economically feasible, or that it promoted the public interest.
According to an Energy Information Administration study, dispatchable sources of electricity, like natural gas, would still be needed when intermittent sources, such as wind, cannot meet demand, but it must back down to accomodate wind generation.  Dispatchable production must therefore keep running without reducing its fixed costs, meaning wind must 'impose' costs from the dispatchable source, making it more costly.
Some opponents are also citing Clean Line's attempted use of eminent domain.
Contrary to this, Grain Belt Express is claming 'uncontroverted evidence' that wind energy is the least-cost option to providing renewable energy and will result in lower costs.  A statement by Clean Line states the order by Missouri PSC also fails to recognize that Missouri utilities are currently unable to meet all renewable energy obligations under recent regulations that became law under president Obama.
Citizens can use the Commission's Electronic Filing and Information System at www.psc.mo.gov.
Comments should be directed to the Office of the Public Counsel:  (866-922-2959)
Also contact the Public Service Commission Staff:  (1-800-392-4211) e-mail [email protected]