ODESSA, Mo. — On September 9th and 10th, a fire fighter training class was held at the Odessa Fire Protection District. The class was titled "Grain Engulfment Class" and was designed to educate first responders on rescue techniques when confronting a grain bin accident.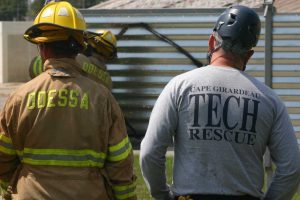 Fire fighters from Odessa, Wellington / Napoleon, Lexington, Belton and as far away as Cape Girardeau participated in this class. Classroom details included about how quick an entrapment can become an engulfment. Other items discussed were hazards found around bins and how to identify them.
The class moved outside to the grain trailer with the hands on course. Training on how to make cuts, how many cuts, locations of the cuts and elevations to the sides of the bins. All of those can make a difference in the elevation of the corn inside of the bin.
Training on grain bins and hopper trucks and the extraction procedures were introduced. Ways to self-extricate were presented in hopes that a trapped person can get out without assistance.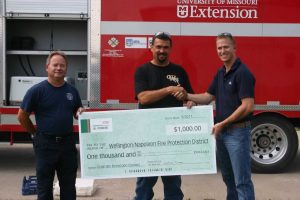 Moving forward to an entrapment that involves the help of first responders. If anything was taught in the class the one thing stuck out was that even a simple rescue requires lots of man power and resources. Even a small rescue can relate to 30 fire fighters with multiple departments with many pieces of equipment.
Rope rescues, coffer damns and grain augers are some of the many tools that are required to complete these types of rescues. Many more classes are in the future for these departments to remain competent in their abilities.
The classes were very informative to the participants in the fact that someday, they might be involved in an actual grain bin rescue. The last thing these fire fighters wants to do is to utilize this training, but with the community that we live in, the risk is always present. Training will continue as the Fire Protection Districts strive to be the best.
All of this training comes at a cost. We would be remiss to not mention our sponsors that made this training possible. Pioneer Seeds, MFA were our major sponsors. Other sponsors stepped up as well, Preferred Bank of Napoleon, Bret Fahrmeier of Wellington, Beckemeyer Brothers of Napoleon, Brad Wieligman of Wellington and Luffland Builders of Bates City. We can't thank them enough for their support. If you are interested in assisting with a cash donation for this class, please call the Wellington / Napoleon FPD (816)934-2330 or mail to PO Box 262, Wellington Mo. 64097
If you do happen to have grain bins on your property, we would encourage you to work with your local fire department to do some preliminary planning. Even some simple planning could help in an emergency situation. If you do find yourself in an entrapment situation, call 911 as quick as possible. Get the first responders in route.