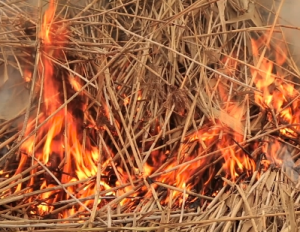 LIVINGSTON COUNTY, MO  – The Chillicothe fire department responded Saturday to a grass fire that eventually burned around 100 acres.
Fire department officials staged off Highway 190 near the Thompson River bridge after receiving reports from dispatch of a truck and trailer hauling hay bales which were on fire. After pulling to the side of the road, the bales reportedly caught the grass on fire. The department was on scene for about 5 hours executing back-burns to control the spread of the flames. They were assisted by Lock Springs, Chula, and Dawn fire departments, as well as from Department of Conservation.
Chief Darrell Wright said in a press release, high winds and dry vegetation presented difficulties as crews attempted to stop the fire. No injuries were reported. The owner of the truck and trailer was not known to the fire department.