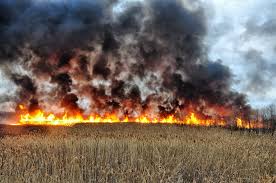 WOOD HEIGHTS, Mo. — Firefighters from several agencies fought a large grass fire in the Wood Heights Fire Protection District Tuesday afternoon.
The call came in around 1:40 p.m. from Beamer Road near U. Highway. Deputy Chief Cline found somewhere between 25 and 50 acres on fire. Lawson, Excelsior Springs, Fishing River, Hardin, Richmond and Birmingham Fire Departments responded to assist with tankers and brush trucks.
Approximately 75 acres burned before the fire was brought under control around 4:40 p.m.