Area growers are invited to attend the Graves-Chapple Research Center field day on Tuesday, August 22 with tou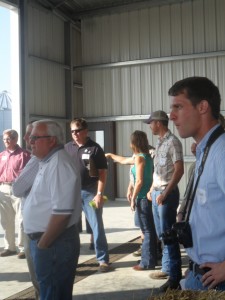 rs starting at 8 a.m. This year there will be a special focus on dicamba with three tour stops addressing damage, off-site movement, and insurance. Growers who have had injury, or have used the product, shout attend to learn about research conducted at the University of Missouri. In addition, during lunch, there will be a question and answer session about this topic with Dr. Kevin Bradley, State Weed Scientist, with the University of Missouri.
Also, there will be a guest speaker, Dr. Tamra Jackson-Ziems, Plant Pathologist, with the University of Nebraska. She will be speaking on the topic of corn disease management. Other topics include strategies for controlling marestail, local insect issues, cash rents, nitrogen application timing in tight budgets and soil health.
The Graves-Chapple Research Center is located along Interstate 29. Directions to the farm are from I-29, exit at the 99-mile marker and turn east on blacktop. Befor the bluff, turn north and proceed 3 miles along the bluff road.
For more information, contact Wayne Flanary at 660-446-3724, Andy Luke at 660-425-6434 or Wyatt Miller at 816-776-6961, Regional Agronomists, University of Missouri Extension or Jim Crawford, Superintendent at 660-744-6231.