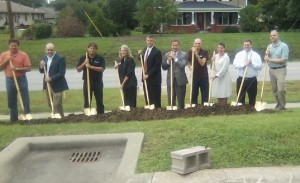 MoDOT and the City of Oak Grove broke ground on a major project Thursday afternoon. The main road through Oak Grove is going to be expanded in the upcoming year.
Click to hear KMZU's Sarah Scott speak with Senior Construction Inspector Eric Mothersbaugh:
Route F through Oak Grove is currently limited to two lanes. "We're going to change it into five lanes, with four eleven-foot driving lanes and a 14-foot center turn lane, with new ADA compliant sidewalks and a new waterline," said Mothersbaugh.
Actual construction got underway on Tuesday, and the completion date is scheduled for November of 2014. Mothersbaugh asks drivers to have patience while the three stages of construction are underway. "We're going to start on the north end of town, and work south. And then there'll be a temporary bypass on the south end for a short period of time. And then the final completion phase," said Mothersbaugh.
Mayor Mark Fulks says the City completed a similar project on the end of town five years ago. Click to hear KMZU's Sarah Scott speak with Fulks:
"Anyone that's come to Oak Grove in the last several years will definitely see the difference with the two-lane road. And now on the north side we have a four-lane road, with two lanes both directions and a turn lane. It's made a huge difference in access, and also just accessibility from the standpoint of our local citizens, which is our main concern," said Fulks.
The City is paying approximately $5 million, with the project predicted to cost $8.9 million. This will be done without a tax increase to the citizens.