Bloomington, Ill–Madilynn Lippa of Montrose, Missouri, has been named the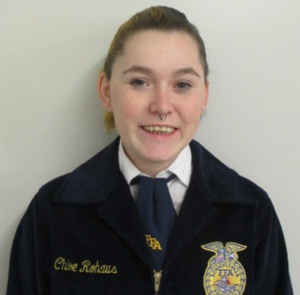 Missouri state winner of the 2021 GROWMARK essay contest for FFA members. Lippa is a student at Montrose R-XIV School District and a member of the Montrose FFA chapter. Her FFA advisor is Shayla Coale.
The theme of this year's contest was "If you could invent a new technology to improve agriculture, what would it be?" Students were encouraged to think creatively, not necessarily realistically, as they described their ideal invention. As the contest winner, Lippa will receive a $500 award from GROWMARK. The Montrose FFA chapter will also receive a $300 award in honor of her accomplishment.
Four state runners-up will each receive a $125 award. The runners-up and their FFA chapters are, in alphabetical order: Maggie Collins, Jefferson FFA, Ravenwood, Missouri; Emily Goetting, Carrollton ACC FFA, Norborne, Missouri; Ashland Higgins, Troy FFA, Moscow Mills, Missouri; and Abigail Miller, Eldon FFA, Olean, Missouri.
This is the 28th year for the program, sponsored by the GROWMARK System and FS member cooperatives, in conjunction with state FFA leaders, to help young people develop their writing skills, learn about current issues in agriculture, and understand the unique role of cooperatives.
You can read Madilynn's winning essay here