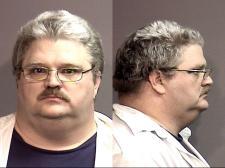 BOONE COUNTY, Mo. (Press Release)- A Hallsville man was arrested yesterday, October 24, 2016 by Boone County sheriff's detectives on two counts of suspicion of Statutory Sodomy 1st Degree involving sexual assaults on a male juvenile between 1999 and 2007.
Gary W. Laforce, 44, of 311 East Highway OO, is being held in the Boone County Detention Facility on $100,000 bond. The incidents are believed to have occurred at the suspect's residence on East Highway OO and at a location on North Route B.
The suspect and victim are known to each other. The Hallsville Police Department assisted with this investigation.