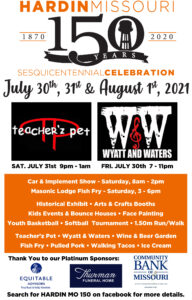 HARDIN – Looks like the state of Missouri isn't the only thing with a birthday worth celebrating this year.
The city of Hardin is celebrating its 150th anniversary July 30 and ending Aug. 1. The event was originally supposed to be celebrated in 2020, but it became yet another casualty of the pandemic. Planning committee member and Hardin resident Troy Rust describes the planning process leading up to the big weekend.
Rust gives plenty of credit to the sponsors for the upcoming weekend. He says that with their help, they were able to exceed the fundraising goal for pulling off the event.
The weekend has plenty of events that anyone will be able to enjoy. Rust lists what's planned to kick off the celebration that Friday.
In its 150 year history, the town has been through a lot – including a pandemic and threatening flood waters. Rust was happy to provide context on the history of the little town.
The sesquicentennial is only slightly ahead of most statewide celebrations for the bicentennial. Rust describes what it means to not only Hardin, but Ray County, to celebrate its history along with the rest of the state.
Family and community seems to run deep in Hardin, and Rust is only living proof of this. His parents were involved in planning the town's centennial in 1970. Rust reflects on the memories that have been passed down and describes how this the build up to this year's celebration pays homage to 1970's.
Overall, Rust shows nothing but love and gratitude toward this small community. He leaves off with one last comment appreciating everyone involved with the event.
To learn more about Hardin 150 and to see a full list of events, view the community calendar on kmzu.com, or visit the Hardin 150 Facebook page or website.