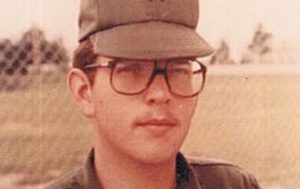 Harold Dennis Newton II, 59 of Higginsville, Missouri passed away on Friday, May 1, 2020 at his home.
Funeral arrangements have been entrusted to Hoefer Funeral Home and online condolences may be made to the family at www.hoeferfuneralhome.com
Due to Covid-19 the funeral service will be small and intimate. After restrictions are lifted, a memorial gathering will be set for a later date.
Harold was born in Fort Worth, Texas on November 18, 1960 to Craig Newton Sr. and the late Jean Newton (Madden).
Harold was a graduate of Columbia-Montour Area Vocational Technical School in Berwick, Pennsylvania. After graduation he joined the United States Army where he served for thirteen years.  He was stationed in Fort Jackson, South Carolina; Fort Sill, Oklahoma and three locations in Germany.  His last duty station in Germany was during Desert Storm. Harold left the Army as an E5 Sergeant in June 1992 and returned to Grandview, Missouri.
Germany was enjoyable for him. He enjoyed the local economy, visiting different locations, German cuisine, and the Black Forest which was one of his favorite spots in Germany. Harold had the opportunity to visit Dachau Concentration Camp in Dachau, Germany. The camp was located in southern Germany not too far from the Switzerland border and the Alps. During time off from his military duties, he was visiting Dachau and decided to detour over by the Swiss Alps.  He was enjoying his time taking numerous pictures of the Swiss Alps. He looked down at the counter where the number was at 42 when he realized his camera did not have any film loaded.
Another one of his fondest memories he often talked about was a road trip he took with his younger brother Craig, to Fort Jackson as he was returning back to base after leave.
Harold left the military with the following achievements: Army Commendation Medal, Two Army Achievement Medals, Three Good Conduct Medals, National Defense Service Medal, NCO Professional Development Ribbon, Army Service Ribbon, Three Overseas Service Ribbons, Army Superior Unit Award, Sharpshooter Marksmanship Badge Rifle, M-16 Badge, Driver Badge and Mechanic Badge.
He was blessed with three children, two sons and a daughter.  He raised his family first in Grandview, then Olathe, and later moved to Harrisonville.  While Harold was not considered a true sports fan, it did not stop him from occasionally attending a Kansas City Chiefs or Royals game with his family. He enjoyed taking trips with his family but was most comfortable at home.  Harold was supportive in his own way as the children were growing up. He encouraged the creative side of Cameron, encouraged Jennifer to pursue greater knowledge, and enjoyed working outside in the yard with his youngest son Justin.
One of Harold's favorite past times was amateur photography and he even had a few of his pictures copyrighted. Another one of his hobbies he enjoyed was working on his vehicles.
He was diagnosed with Anaplastic Astrocytoma Cancer of the brain in 2003. He was cancer free in 2010 which made him a cancer survivor.
Harold Newton is survived by his three children: two sons, Cameron D. Newton and Justin M. Newton both of Falls Church, Virginia; one daughter Jennifer K. Newton of Independence, Missouri; his father, Craig Sr. and step-mother, Linda Newton of York, Pennsylvania; two sisters, Genie Tyburski and Renee Newton of Montgomery, Pennsylvania; one brother, Craig Newton of Wellsville, Kansas; three nieces, Danielle Newton of Rose Hill, Kansas, Theresa Smart of Peculiar Missouri, Loren Tyburski of Lancaster, Pennsylvania; one nephew, Alex Tyburski of Cockeysville, Maryland; one grandson Ethan Whitebread of Independence, Missouri; three great-nephews, Jackson and Theron Smart of Peculiar, Missouri; Dean Whitmer of Rose Hill, Kansas; and one great-niece, Milli Whitmer of Rose Hill, Kansas. Harold is preceded in death by his mother, Jean Newton.