CARROLLTON, Mo – With the fall season officially beginning this week, farmers are beginning their fall harvest. Harvest season sometimes means having to move slow moving farm vehicles and equipment on Missouri highways. The Missouri Coalition for Roadway Safety wants to make sure motorists are aware of these vehicles and the special hazards they present.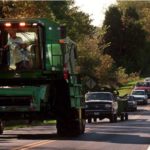 Mandy Kliethermes from the Missouri Department of Transportation explains that the harvest season is one of the busiest times of year for farmers and that we must be attentive and respectful of their necessary farm travel.
Missouri's rural and often rolling terrain makes being aware of these slower vehicles even more important.
In 2018 alone, seven people were killed and six seriously injured in crashes involving a farm vehicle. However, with some simple changes, these crashes can be avoided.
Listen to Friday's Newsmaker below for more on keeping Missouri roadways safe this time of year.