PETTIS COUNTY, Mo. — An initial arraignment was held Monday, for a Sedalia man accused of shooting another man during an alleged drug deal earlier this month.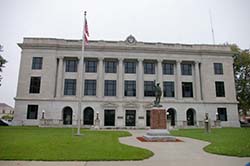 Bobby L. Jackson, III, 22, is charged with first degree assault with serious physical injury, unlawful use of a weapon and armed criminal action.
Police responded to a shooting in the 700 block of East 5th Street, to find Austin Dotson shot in the left leg. Dotson later told police he was there to buy cocaine from Jackson when they began to argue.
Jackson reportedly displayed a handgun and shot Dotson as he tried to run away.
A counsel status hearing is now scheduled on the afternoon of March 26.