HENRY COUNTY, Mo. – The Henry County Circuit Court will attempt to hold a criminal setting today, in a 2013 homicide case.
In November of 2015,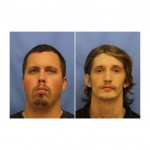 the prosecutor amended the original charge of second degree murder against Phillip A. Hayduke, 20, of West Plains to a class A felony of murder in the first degree. The amended charge makes Hayduke eligible for the death penalty in Missouri.
Hayduke is accused in the shooting death of Justin Emmerson, who's body was recovered in the Grand River near Urich.