CALLAWAY COUNTY, Mo. – A counsel status hearing is scheduled today, for a man accused of firing a handgun in a Fulton McDonalds restaurant.
Brian Keith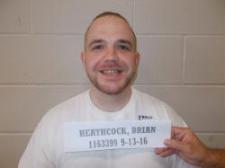 Heathcock, 29, of Fulton, was charged after being identified on surveillance video as the suspect who got in a fight on September 22, 2018, and pulled a gun on another man. The probable cause statement says Heathcock struck the man with the pistol before firing a shot in the building.
Heathcock was later arrested and charged with one felony and one misdemeanor count of assault, armed criminal action, unlawful use of a weapon, first degree property damage, receiving stolen property and unlawful possession of a firearm.
The hearing is scheduled to begin at 1:30 p.m. in the afternoon.