CALLAWAY COUNTY, Mo. – A Fulton man incarcerated in prison for unrelated charges, will appear by video over several felony charges filed in 2018.
Brian K.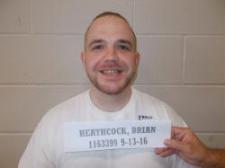 Heathcock, 29, has a counsel status hearing in Callaway County today, for felony counts of assault in the second degree, armed criminal action, unlawful use of a weapon, property damage in the first degree, receiving stolen property and unlawful possession of a firearm. There is also a misdemeanor count of fourth degree assault for an incident at the McDonald's in Fulton. Heathcock reportedly struck a man with a firearm during an altercation, then fired the weapon inside the McDonalds before fleeing the scene.
The hearing begins at 1:30 p.m. this afternoon.