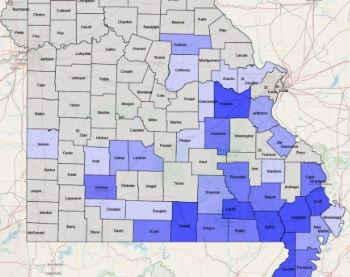 JEFFERSON CITY, MO – A recent outbreak of Hepatitis A in Missouri is significant according to DHSS.
Bureau Chief of Communicable Disease Control and Prevention, Rachael Hahn, said the virus is spread from unknowingly consuming undetectable amounts of stool from an infected person.
Hahn also indicated a particular portion of Missouri's population is more at risk of being exposed.  Risk factors used to determine who is most likely to contract the virus, centers on drug use, and homelessness.
The outbreak reportedly dwarfs previous numbers recorded in Missouri.  Rather than the tens of cases reported yearly when the vaccine was first introduced, the current outbreak involves hundreds of cases over a two-year period.
Hahn says the spread of Hepatitis A in Missouri is trending toward the northwest, from its origin around Butler County, now encompassing Audrain and Callaway Counties.
DHSS says the best way to prevent the virus is the available vaccine, but other ways include general hygiene practices.  Vaccinations are recommended for children ages 2 – 18. Free vaccines may be available for those eligible for medicaid with no health insurance, or are underinsured.
Hahn says, one problem with prevention is getting the message to people who need to hear it.