The Higginsville Board of Aldermen will meet tonight, July 20, 2015.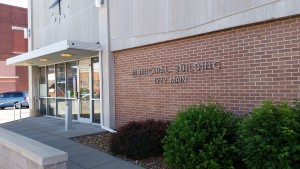 The Administration Committee has four items to discuss on the agenda. First they will discuss amending a bill regarding zoning regulations and building codes.
The second item will be the discussion of a conditional use permit for Richard Peerson. The conditional use is for a reduction in the number of parking spaces and the use of gravel parking.
Also, the board will possibly approve the BOJOY Estates Minor Subdivision. The forth item is regarding a conditional use permit for Carrol Rodriguez. The permit will allow manufacturing of food products in a highway commercial zoned area.
Under other business, Zybisco's Bar and Grill, LLC will seek approval for a Liquor and Amusement License. Lawrence Ransdell and Gary Harger close on the Bar and Grill in the 2100 block of Main St. on July 31, 2015.
The meeting will get underway at 6 p.m. at City Hall.