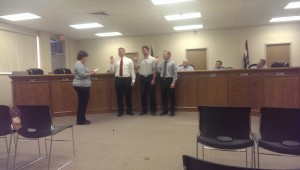 The Higginsville Board of Alderman meeting met again last night for the second time this month.  As usual the meeting was short, but swift in action as many different important items were on the agenda.  Mayor Kolas started the meeting off greeting visitors including myself as he does often.  Then dove right into committee reports from the Aldermans.
First order of business was a report by the Administration Committee in regards to the acceptance of the 2015 Certificate of Election.  Alderman Wallace, Alderman Linebach, and Alderman Rhoad were among the ballot for election and all three won by an overwhelming amount of votes. They were then given the oath of office.
Next, was the Transportation and Waste Management Committee report.  A bill was put in ordinance form at the previous meeting and was brought forward last night.  The bill in retrospect is in regards to vacating all of an alleyway running north and south through different lots in town of Block N.  Concerns and issues with this bill were made clear and the Board went ahead with the second reading and  the bill was passed unanimously.
Last order of business was a bill that was brought forth by the Emergency Services Committee, which in turn, is an agreement with the Fire Fighters Association of Missouri.  The agreement in general would allow State Fair Volunteer Fire Department to have an ambulance at their disposal when needed, but would have to be returned to the City of Higginsville when needed.  That bill was also passed in its second reading by the Board unanimously.
Click on the mp3 link below to listen to the Higginsville Board of Alderman meeting on April 20th.