HIGGINSVILLE, Mo. — The Higginsville Board of Aldermen will meet tonight, August 17, 2015, at 6 p.m. The meeting will begin with a public hearing on the proposed tax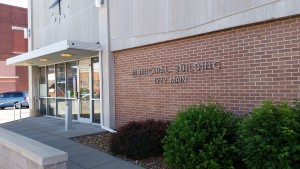 rate for the 2015/2016 budget year.
After approving the consent items, the next item on the agenda will be under the Committee Reports. The proposed tax levy that was presented at the public hearing will be up for approval. The next item under the Administration Committee will be the approval of a Conditional Use Permit for Ricky Butler and Debbie Chapman at 500 Fairground Ave. Also under the Administration Committee agenda is the suspension of Section 600.075 Drinking in Public Places on September 18, 2015. City Administrator Lee Barker says in his board meeting update,"The Lions Club and Zybisco's Bar and Grill are sponsoring a washer tournament Friday, September 18, 2015, from 6:30 p.m. until 11:59 p.m. on Main Street, between 21st and 22nd Street, during the Country Fair."
The Emergency Services Committee is asking for approval of part time employees, Jason Laffler, EMT and Tyler Brobst, Paramedic and full time employee Matthew Pitti, Paramedic.
With September being a busy month, the board will be asked to adjust the meeting dates. It is proposed to move the meetings for the month to September 8 and 28, 2015.
The meeting will end with the Board of Aldermen going into a closed session.