Click below to here KMZU's Kim Nuelle speak with Higginsville Mayor Bill Kolas.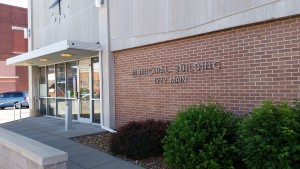 The Higginsville Board of Aldermen met last night at six in City Hall. Under committee reports, there were two bills approved.
The first bill concerned a lease purchase agreement for a park utility tractor. It was approved unanimously by the Board. Mayor Bill Kolas stated that the details were not known at this time. The park department usually leases a small tractor every year from Deere Credit, Inc.
The second bill accepted a State Block Grant agreement to design and construct a five unit T-hanger at the Higginsville Municipal Airport. Mayor Bill Kolas stated, "It's something we've been needing for a long time. Actually, we need more than five, but it is an expensive thing so five is what we're working on at the present time." Mr. Kolas stated the spots in the new hanger are already spoken for.
Drew Lefman was approved to participate in a ride-a-long program with the Higginsville EMS. Drew is currently a member of the Higginsville Fire Department.
The meeting ended when the Board went into closed session.