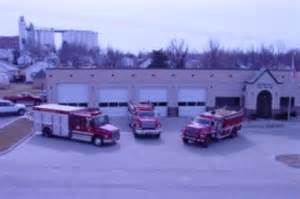 Click play below to listen to KMZU's Shaylee Miller visit with Assistant Higginsville Fire Chief, Randy Ammer, about language on the April 7th ballot:
The Fire Department in Higginsville has introduced a Fire Protection District Vote to the April 7th ballot. "We are proposing to the voters of creating a Higginsville Fire Protection District," explained Ammer, "We are now covered by the city of Higginsville municipal department as well as the Rural Fire Association. We're looking to create a new tax based fire district and absorb the two current departments into the newly formed district if approved."
While citizens, rural and city, presently have fire protection, this consolidation is considered to be a more practical method. "As of now," Ammers' gives a brief description of the current situation, "We have the city funded city department and then those that live outside the city limits of Higginsville are funded by the Rural Fire Association, it is a dues based where they join and pays dues annually. We are just wanting to form the two into one tax district to help better serve our customers and citizens." The proposed levy is for $0.30 to every $100 of assessed value.