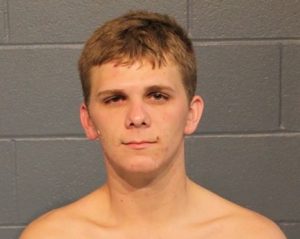 CASS COUNTY, Mo.- A Leavenworth, Ks., man is in custody following a high-speed pursuit that led authorities from Harrisonville, Mo., to Creighton, Mo.
According to a release on the Cass County Sheriff's Facebook Page, on Wednesday morning, a Cass County Sheriff's Deputy attempted to stop a black 2005 Cadillac in the area of south 7 Highway and Interstate 49 for speeding when the driver sped away at a high rate of speed. At times the vehicle reportedly reach 130 mph during the 18 mile pursuit. Deputies followed the suspect to Creighton where he attempted to escape by driving through residential lawns and striking a Cass County patrol car.
Kaleb A. Martin, 20, eventually lost control of his vehicle and crashed near the Cass/Henry County line on NW 900 Road. He was taken into custody without incident. A check of Martin and the vehicle revealed that the 2005 Cadillac was stolen from Tonganoxie, Ks., and numerous active warrants for his arrest. Deputies also seized numerous stolen identifications and financial documents related to several stealing from vehicle cases in Cameron and Joplin, Mo.
Martin is currently being held in the Cass County Jail on multiple warrants from Newton and Jasper County. He was formally charged in Cass County Circuit Court with tampering with a motor vehicle in the first degree and resisting arrest. His bond was set at $5000 or 10% cash and is scheduled for initial court proceedings on July 26, 2018.