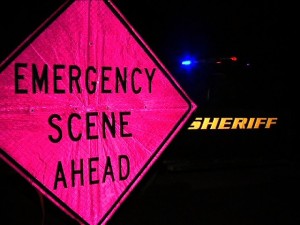 UPDATE: 7:00 p.m. – Heavy afternoon traffic was the cause of a four-vehicle crash that occurred south of I-70 on Highway 13 in Johnson County.
Missouri Highway Patrol reports four northbound vehicles were involved in the wreck which happened after one car attempted to make a left turn off the roadway.
Angelina Melton, 58, of Warrensburg had to wait to make the turn because of southbound traffic.  The vehicle immediately behind Melton successfully stopped, however, two other northbound vehicles could not stop in time.
The series of rear-end collisions damaged all four vehicles involved, and caused minor injuries to Christy L. Moore, 23, of Higginsville, who's vehicle was the final addition to the crash scene.  She was taken to  Western Missouri Medical Center for treatment.
Other drivers involved in the crash were, Sarah E. Foran, 22, of Warrenton, and Alexandra K. Smith, 21, of Warrensburg.
UPDATE:  5:45 p.m. – The Missouri Highway Patrol reports the debris has been cleared at the scene, and traffic is moving normally.
JOHNSON COUNTY, Mo – Reports of a multiple vehicle wreck south of I-70 junction on Highway 13 were received after 4 p.m.  The wreckage is  reportedly blocking traffic.
Missouri Highway Patrol confirmed the accident.  There is no information yet regarding the severity of the crash or injuries.
The northbound lane is currently blocked about 4 miles south of  I-70 junction on 13 Highway.  However, traffic is slowly being let through.
Watch for future updates.