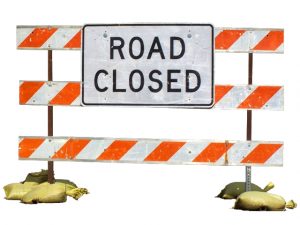 POLO — A historic building collapsed in Polo, causing road blockage in the area between highways 13 and 116.
Located on 401 Main Street, the business known as the "Buck Barn" by locals fell around 5:20 a.m. due to heavy rain and wind damage, according to Polo Chief of Police Jonathan Abbott. The business sold seasonal fireworks and was currently not in use. No one was harmed in the collapse.
The road was not damaged, however the debris left from the building is a threat to public safety, resulting in the road being blocked off.  Responding agencies to the building include MODOT, the Caldwell County Sheriff's Office, the Polo Police Department and the Polo Volunteer Fire Department.
According to Abbott, cleaning up the road could take at least 12 hours today, so residents can expect a traffic delay in the area or avoid the area completely.
The building's history dates to the early 1900s or even the late 1890s, Abbott says.