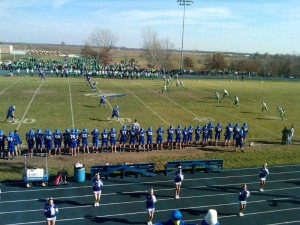 The Blair Oaks Falcons were in Holden to take on the Eagles in the Class 2 Semifinal round Saturday afternoon.
Holden received the opening kickoff and were unable to march down field for a score on the opening drive as they did the past two weeks. Blair Oaks however took their second play from scrimmage 21 yards for a touchdown on the back of Derek Otto; the extra point was good and the Falcons were up 7-0.
Holden would turn the ball over and the Falcons pounced immediately with an 80 yard run by Eli Roberts. Again the point after was successful and  a stunned home crowd sat in silence.
The Eagles would not go quietly and scored on a 1 yard touchdown by Max Mickey. The point after failed and Holden was down 14-6 with 2:50 left to go in the first.
Blair Oaks and Holden would trade scores in the second quarter and by the half Holden had battled back to an 18-20 deficit, but would never catch Blair Oaks as the Falcons would come out in the second half and score first on a 1 yard QB option by Daniel Castillo. That was the first of three unanswered sores in the second half and Holden eventually fell to the Falcons 46-32.
The Eagles season comes to an end at 11-3.
Blair Oaks will now travel to St. Louis next Saturday, November 24th to face defending Class 2 champs Lamar in the Class 2 Championship of the Show-Me Bowl; kick off at 2:15 p.m.