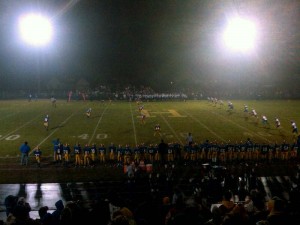 Lafayette County C-1 High School hosted the Holden Eagles Monday night for the Class 2 District 7 championship. These two teams met earlier in week 6 and it was a close overtime victory for Higginsville, 28-21. Those 21 points were the most points given up all season long by the Huskers…until tonight.
Holden received the opening kick-off and on the first play from scrimmage, Eagles powerhouse Max Mickey took it to the house from 68 yards out on a sweep off the right side. The Eagles faked a field goal and Eagles QB Jeff Miller found Matt Borgen for a two-point conversion.
The Eagles defense then came up with a fumble recovery off of the Huskers' first possession; and just 1:15 into the Game, Max Mickey rips off a 48 yard touchdown run to stun the home crowd into silence, putting the Eagles up 15-0.
Lafayette came roaring back late in the first with a 23 yard TD strike from Adam Reid to LJ Williams. The point after was blocked by Austin Tevis however, which put the Huskers down 7.
Lafayette County would score two more times unanswered. The first was Cotry Lewis from the Holden 9 yard line followed by a huge play by Adam Reid. He kept the ball on a QB option and ran it 35 yards in for the score. The Huskers got one two point conversion, but not the second, putting the Huskers up 20-15 at the half.
Higginsville got the ball to open the third quarter, but as they had shown most of the night, Holden's defense forced them into a 3 & out. With 8:52 left in the 3rd, Max Mickey struck again, this time a 17 yard scramble breaking tackles and powering it intro the end zone. That gave the Eagles the lead again early in the half; Holden 23 Higginsville 20.
Holden would retain the lead the rest of the way. Higginsville kept fighting but three turnovers in the second half was the doom of the Huskers, allowing two more scores by the Eagles, all on the back of Max Mickey who ran in a 9 yarder and a 60 yarder. Just on the touchdown's alone Max Mickey racked up over 200 yards.
Higginsville falls to 11-1 on the season and Holden will now go on to face Lathrop, possibly on the road, this Saturday afternoon at 1:30 p.m. The Eagles are now 10-2 on the season with their 3rd district title in five years.