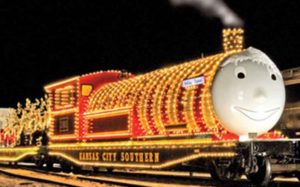 HIGGINSVILLE, MO – This holiday season, one railroad is giving Santa a ride so he can make his pre-Christmas rounds.
The Assistant VP of Corporate Communications and Community Affairs with Kansas City Southern Railroad says Higginsville is one stop on this year's excursion of the Holday Express
Donors responsible for the event have added charitable contributions to the purpose of the express since it was initially made a part of the KCS line in the 1990's.
December 17th, the train, and Santa will arrive in Higginsville around 4 p.m. at the depot.  It will remain open as long as there are people in line.
The complete list of scheduled stops for 2019 may be found here.