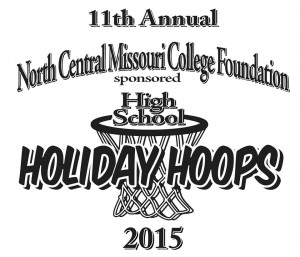 TRENTON, Mo.- An "All Star Team" from the recent High School Holiday Hoops has been released by officials of the 11th annual event.  For the first time, 12 young men and 12 young women were recognized for outstanding performances on the court during High School Holiday Hoops.
Named to the 2015 All Star Team from their respective high schools were:
Boys Team                                                                                      Girls Team
Dane Robertson – Bucklin/Macon County                               Whitney Clampitt – Chillicothe
Nate McKiddy – Chillicothe                                                         Claire Rose – Grain Valley
Jal Bijeck – Des Moines North                                                     Sarah Lamp – Kirksville
Jake Salisbury – Grain Valley                                                       Rachel Boucher – Maysville
Jacob Beal – Higbee                                                                       Kendey Eaton – Mound City
Dallis Vorkink – Kirksville                                                              Haley Craig – North Harrison
Trey Ogelsby – Maryville                                                              Rachel Distler – Prairie Home
Ryan  Young – Meadville                                                               Daejah Bernard – St. Joe Benton
Latroy Harper – Penney of Hamilton                                          Ashlyn Dotson – St. Joe Lafayette
Calvin Heidenwith – Putnam County                                          Kaylie Campbell – Southwest Livingston
Luke Churan – Tina –Avalon                                                        Lilly Churan – Tina-Avalon
Craig Lewis – Winston                                                                  Whitley Richman – Trenton
Each athlete will be presented with an official Holiday Hoops 2015 All Star Patch suitable for placement on their individual letter jacket.   A special committee was chosen to observe each of the 57 games played and determine the best representatives for the very first Hoops All Star Team; a selection that committee members hope to add to their big event on annual basis.