INDEPENDENCE, Mo. — According to a news release, the Independence Police Department responded to a residence and found a male subject shot.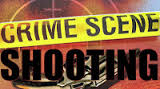 Police responded to the 20100 block of E. 12th Terr Street for a shots fired call Sunday, October 30, 2016, at 1:55 a.m.
An officer located a deceased adult male outside a residence who had been shot. Detectives are still investigating this case as a homicide. More information will be released when available.
If you have any information about this incident you are encouraged to call the TIPS hotline.