GRUNDY COUNTY, Mo. – A jury trial scheduled in a Grundy County homicide case is no longer necessary.
According to court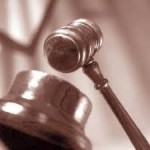 documents, at an October 5th, 2015, pre-trial hearing, Jameson Read, 26, withdrew his not guilty plea and entered a plea of guilty to murder in the second degree and assault in the first degree. Read was accused in the July 2013 shooting death of his business associate, John Vincell.
A sentencing hearing has been scheduled to begin at 9:00 a.m. on November 30th, 2015.