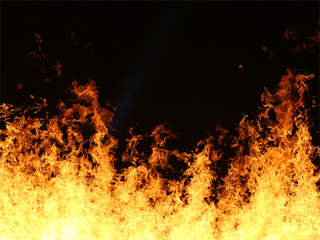 UPDATE:  (4 p.m.)  – A residence in Bogard was fully engulfed in flames by the time fire crews came to the scene this morning.  Carrollton Fire Department was called to the scene approximately 11:18 Thursday morning. The department says, a residence at County Roads 210 and 281 was declared a total loss.  The property reportedly belonged to Ron Mansfield.  Only one side of the house was standing when crews arrived.  Carrollton fire, in cooperation with Bogard and Tina Fire protection used around 12 thousand gallons of water, and worked over two hours to extinguish the blaze. The property owners were not at home when the fire ignited, and no injuries resulted.  The cause of the blaze is currently unknown.  
CARROLL COUNTY, Mo. — Carrollton Fire Department is on scene for a residential fire near Bogard. Reports say a residence on County Road 210, west of Bosworth, is on fire.
Crews are on scene to battle the blaze. There are no reports of the extent of the damage or whether anyone was inside the home.
If in the area, please use caution as emergency crews work the scene.