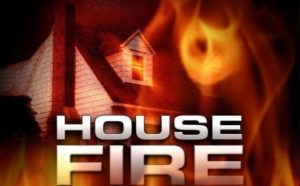 CHILLICOTHE, Mo.- According to a release by the Chillicothe Fire Department, a house fire in Chillicothe caused some damage and sent one to the hospital.
Fire officials were dispatched to a call around 5:00 p.m. last night, on the first block of E. 3rd Street to reports of a fire in a bedroom. When officials arrived all occupants were out the house and smoke was seen coming from the single-story house.
The house fire was ultimately stopped before it spread throughout the rest of the structure.  The entire home had reported smoke damage and one occupant suffered smoke inhalation before being taken by ambulance to Hedrick Medical Center for evaluation and treatment.
Cause of the fire is still under investigation by the State Fire Marshall. The Red Cross was contacted and was on scene to assist the family with housing.