BUDAPEST (AP) — Hungary's defense minister says up to 3,500 soldiers could be sent to the southern border with Serbia to help with the migrant crisis.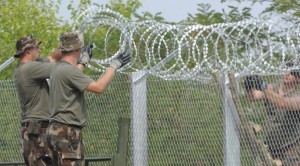 Defense Minister Csaba Hende reassured lawmakers on Tuesday that troops would not use deadly force to disperse unarmed crowds of migrants.
Using troops at the border is one of several measures regarding migrants to be debated this week by the Hungarian parliament and take effect Sept. 15. Others include longer prison terms for human traffickers and making it a felony to cut through the border fence or to enter Hungary anywhere except at official border stations.