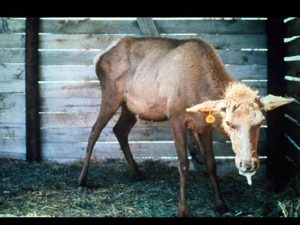 The Missouri Department of Conservation is requiring hunters who harvest deer in certain counties to present the deer for chronic wasting disease (CWD) sampling stations.
Chronic wasting disease is a contagious neurological disease that affects deer, elk, and moose. It causes a spongy deterioration of the brains of infected animals, resulting in abnormal behavior, emaciation, and death.
Symptoms of CWD include weight loss, excessive drinking or urination, listlessness, lowering of the head, blank facial expression, repetitive walking in set patterns, excessive salivation, and drooling,
Hunters who harvest deer during the opening weekend of deer season (November 12 and 13) in the Department's CWD Management Zone will be required to test their deer for CWD. This will help control the spread of the disease, with the ultimate goal of eliminating it altogether.
Hunters have the option of only presenting the head, with at least six inches of the neck still attached.
The CWD Management Zone includes these counties within or that touch a radius of approximately 25 miles from where the disease has been found: Adair, Boone, Callaway, Carroll, Chariton, Cole, Cooper, Linn, Livingston, Macon, St. Louis, Randolph, Schuyler, Shelby, and Sullivan.
A full list of the counties in the Zone can be found here.
The concern surrounding CWD is high. It can pose serious problems for wildlife managers, and reduce the number of deer and elk in the area.
Computer modeling suggests that CWD could substantially reduce infected cervid populations by lowering adult survival rates and destabilizing long-term population dynamics.
The movement of live animals is one of the greatest risk factors in spreading the disease into new areas. Natural movements of wild deer and elk contribute to the spread of the disease, and human-aided transportation of both captive and wild animals greatly exacerbates this risk factor.
There are also certain things hunters can do to help reduce the spread of CWD:
Do not shoot, handle or consume an elk or deer that is acting abnormally or appears to be sick.
When field-dressing game, wear rubber gloves and minimize the use of a bone saw to cut through the brain or spinal cord (backbone).
Minimize contact with and do not consume brain or spinal cord tissues, eyes, spleen, or lymph nodes.
Always wash hands thoroughly after dressing and processing game meat. (More)
Don't move deer carcasses. Hunters are encouraged to avoid moving whole deer carcasses outside the Management Zone, and instead moving only these deer parts:

Meat that is cut and wrapped
Meat that has been boned out
Quarters or other portions of meat with no part of the spine or head attached
Hides or capes from which all excess tissue has been removed
Antlers, including antlers attached to skull plates or skulls cleaned of all muscle and brain tissue
Finished taxidermy products

Report sick deer. If you see a sick deer, please call your local conservation agent or your regional Conservation Department office.
For more information, a chronic wasting disease FAQ page can be found here.
A full list of the CWD Management Zone sampling stations can be found here.