UPDATE: 02/22/18, 11:14 a.m. — Crews have made repairs to the train stopped on the tracks in Norborne as of 11:10 a.m. Thursday. All rail road crossings in Norborne are now accessible and operations have returned to normal.
====================================================
UPDATE: 02/22/18, 10:02 a.m. — Highway J in Carroll County has been cleared and all motorists have been able to leave the area. Some roadways, however, are still very slick. Drivers are urged to use caution.
====================================================
CARROLL COUNTY, Mo. — Crews in Carroll County are working to clear roadways of ice, which is causing some headaches for emergency officials in Carroll County Thursday.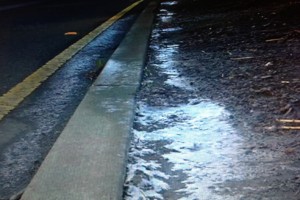 According to a spokesperson for Carroll County E-911, black ice has caused approximately five vehicles on J Highway in Carroll County to become stranded. First responders are having difficulty reaching the area due to icy roadways, however are working to reach the stranded motorists as soon as possible.
Also, a locomotive passing through Norborne is currently out of service due to what have been described as "serious mechanical issues." Railroad engineers have been dispatched to Norborne to make necessary repairs to the train, however all railroad crossings in Norborne except for the Oak Street crossing will be closed for the next few hours.
MoDOT crews are currently out clearing roadways, however many roads across the KMZU listening area remain slick Thursday morning, so drivers should be careful when out and about.