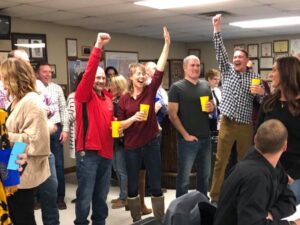 RICHMOND — In a time where the use of virtual events are helping us live life as pandemic-friendly as possible, organizations are moving to hosting virtual fundraisers in place of the grand events that would usually take place. The goal for the Richmond Rotary Club is to have its annual Reverse Drawing and Raffle with the same format with a few tweaks. Rotary club member Robert Swafford explains more.
Last year, the Rotary club hosted its 15th annual fundraiser in its regular format,  just as it had 14 years prior. Swafford explains what a typical night entailed.
For this to work, the club needed to make some adjustments. While the raffle will still be the same with the presold tickets, the auction is a large portion of the online experience.
The club is doing its best to make sure the format is only changed in the slightest ways. Swafford says there are key pieces to holding a successful event such as this one.
Nearly a month after last year's event, the world shifted as the pandemic officially declared and measures were taken to preserve public health. As the only fundraising event Richmond Rotary has it's important for the club to hold the fundraiser and maintain the support of the community it serves.
The thought process behind finding a way to still have the raffle was simple for the club. With the community it serves in mind, it wasn't difficult to decide. As the planning for the February event starts in the mid-fall, there had been much time to adjust to the idea of not having an ordinary raffle.
With the virtual raffle, Swafford sees it as a gateway for the rotary club to get creative with and expand on their online presence.
The livestream event is also allowing for more ways for the community to engage with the Rotary club despite not being at an in-person event.
Swafford says that so far, ticket sales are meeting expectations.
In a time that's heightened awareness for community support and unity, its especially emphasized to invest in small and local organizations and businesses. Swafford says this is something the rotary club has always prioritized.
What hosting the raffle boils down to is making sure the dedication to the community is put first. Nearly 30 organizations benefit from contributions from the Richmond Rotary Club, and Swafford acknowledges that their needs don't just go away.
The 16th Annual Reverse Drawing and Auction will begin on Feb. 6 and run all week leading up to the live stream event on Feb. 13. The stream will be available on YouTube.