KANSAS CITY, Mo– Midwest weather is something most Missourians have grown to realize is more or less unpredictable however meteorologists are tracking a couple of storms they say are going to cause some issues across the nation. Click play below to listen to KMZU's Ashley Johnson visit National Weather Service Meteorologist in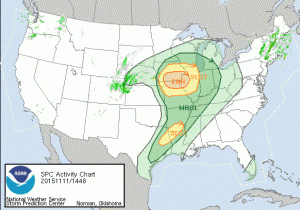 Kansas City, Pamela Murray:
Two storm systems are expected to affect Missouri today, both causing Meteorologists to issues severe storm warnings.
The system carrying the threat of hail, strong winds, and possible tornadic behavior is expected to begin during the late morning hours and move completely through the area by early afternoon. Meteorologist Pam Murray said this is a fast moving system and while it does hold the potential to produce tornados, it is not a large threat.
Murray said the bigger concern for our listening area is the strong, sustained winds gusts, expected to last well into overnight hours.
Winds will be consistently blowing at speeds anywhere from 30-35 mph with gusts from 45 to possibly 50 mph. Murray suggested Missourians bring inside any items which are not heavy enough or strong enough to withstand those sorts of winds. She also said any items or furniture left outside should be tied down or secured in a solid structure.
Citizens are encouraged to monitor local weather stations throughout the day and evening. Also having a plan in place for the possible situation, which could come as the cause of high winds and tornados, is an essential detail.