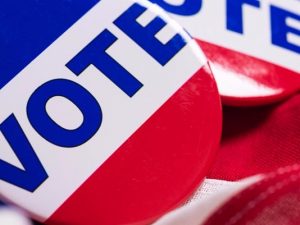 CARROLLTON,  MO – The new voter ID law in Missouri has caused consternation for some who fear their vote may not be counted. Secretary of State Jay Ashcroft is attempting to quell fears, and anticipate local elections with an informational tour throughout the state. Wednesday, Ashcroft was in Higginsville, Richmond, and Carrollton in the local area where he tried to explain the reasoning behind the new law.
Ideally, voters should show a government-issued photo ID.  Without this, voters may show previously allowed forms of ID including a voter registration card, university, college, or vo-tech ID, utility bill or bank statement, government check, paycheck, or other document showing your name and address. However, the voter must sign a statement.
The new voter law also introduces an entirely new type of provisional ballot available at all in-person elections.  Registered voters may vote a provisional ballot, but it will not be counted unless, a) the voter returns to the polling place with official ID, b) the signature of the sworn statement matches the signature in the voter registry.
Secretary Ashcroft says he does not expect many provisional ballots to be cast, but it should provide certainty that all registered voters will be able to cast a ballot. A toll free hotline was also established for anyone with questions about the voter ID law, or for help obtaining official documents:  886-868-3245.  Also, visit showit2vote.com.