SALINE COUNTY, Mo. _ A motorcycle accident in Saline County Friday morning, July 17, 2015, injured a rider who now faces felony drug allegations.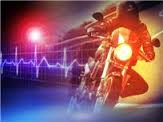 According to the Highway Patrol, Richard E. Roberson, 46, of North Kansas City Missouri was Westbound on Interstate 70 near Marshall Junction when his Harley Davidson ran off the right side of the roadway and struck a ditch, ejecting Roberson. He was flown to University Hospital with serious injuries.
Roberson is now alleged to have been in felony possession of oxycontin and methamphetamine. He is also accused of driving while intoxicated by drugs, possession of up to 35 grams of marijuana, unlawful use of drug paraphernalia and careless and imprudent driving.