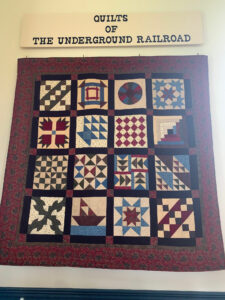 CHILLICOTHE – As the floorboards of the centuries old Bethel African Methodist Episcopal Church creak beneath your feet, it feels as though you're absorbing history with each step.
Touring Chillicothe's church-turned-museum and its inaugural exhibit is a spiritual experience, and not just because of the setting. After almost a year in the making, the Bethel Black History Museum is currently showcasing stories from the Underground Railroad through quilts. Museum director Pam Clingerman describes the all of the squares on one of the quilts, also titled The Quilts of the Underground Railroad.
From kente cloths to biblical imagery, Clingerman emphasizes how Africans utilized symbols for navigation, communication and art.
Clingerman, who is originally from England, describes her experience learning not only the quilt stories, but an integral part of American history. Although she believes the stories work together to become an interesting chunk of the past, she shares one piece of new information that impressed her.
When she explains the importance of this exhibit right now, Clingerman describes just how timely the quilts are and can be.
When the bicentennial rolls around next month, the church won't have a specific exhibit so to say, but it will be the backdrop of a celebration with live music, Clingerman says. She likens the church's connection to music to the grand opening of the museum, which featured a selection of hymns sung by members of the choir at Mount Zion Baptist Church.
Across the street and inside the Grand River Historical Society Museum, the already existing exhibits are punctuated with text boxes comparing Livingston County living throughout the years. The kitchen exhibit offers recipes, and the general store exhibit compares prices of daily use items.
Soon after the bicentennial, it will be time to switch out the Underground Railroad exhibit for another. Clingerman shares the ideas she has.