NODAWAY COUNTY, Mo.- An Iowa man was seriously injured when his motorcycle and a car collided in Nodaway County Saturday night.
The Missouri Highway Patrol says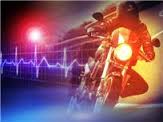 Troy Farrens, 49, of Blockton, Iowa, was flown to Creighton University after the crash on Route C, three miles West of Elmo. Farrens was westbound on Route C around 8:40 when his Harley Davidson crossed the center line and hit Breann Hunt, 21, of Burlington Junction, Missouri.