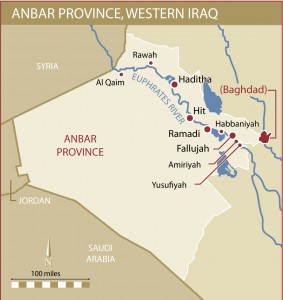 Officials in Iraq's Anbar province say there is ongoing fighting and airstrikes west and south of the Islamic State-held city of Ramadi.
The description of the fighting Tuesday afternoon came from provincial councilman Faleh al-Issawi and local tribesman Rafie al-Fahdawi, who both spoke to The Associated Press by telephone.
They say that for now, the strikes and fighting are aimed at recapturing the outskirts of Ramadi and not the city itself.
Iraq launched an operation Tuesday to retake Anbar province from the Islamic State group, and a Shiite militia spokesman said Iraqi forces have surrounded the provincial capital, Ramadi, from three sides.