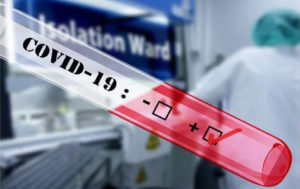 WARRENSBURG — Johnson County saw its first case of the novel coronavirus on March 21. It only took 20 days in July to match the number of confirmed cases of COVID-19 tallied in 14 weeks. The county's total cases now stands at 372 — 103 of those reported last week with 1 death.
Kerri Lewis, Johnson County Community Health Services Community Outreach Director, says the outbreak is due to community transmission.
"It's crazy how it's gotten to this," she told KMZU. "We've seen a significant number of Covid-positive cases. It started with maybe, 2 or 3 daily, and now were following 200-plus (active cases). It's terrifying. Maybe doing face coverings will help."
Johnson County Commission implemented a face covering mandate on July 6 in an attempt to slow the spread of infection, as school districts make plans for the reopening of schools in late August. The county order is set to expire on July 28; however, a meeting next week with county and health officials may extend it. Lewis also says the move may keep limited hospital beds open for those who become seriously ill by the virus.
. . .
Eight people are currently hospitalized with COVID-19 in Pettis County. On Monday, its county health department reported a 34 percent weekly increase in positive cases, with 80 of those as active cases and 136 people under observation. Pettis County's overall total is now at 231.
Also on July 20, Ray County Health Department received 12 additional positive COVID-19 cases since last Monday's update for a total of 46 confirmed cases. The health department is currently monitoring 19 active cases, along with numerous close-contacts of cases in Ray and surrounding counties.
Lafayette County reported 1 new case on Monday. Of the 122 total cases, 20 are active, the health department reports. Linn County also reports one additional case on July 20, bringing that county's total to 34.