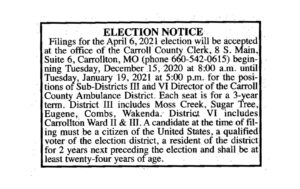 CARROLLTON — When was the last time Carroll County Ambulance District had an election? It's been a long time, according to county clerk Norma Sparks. That's because no one has filed for candidacy except for incumbent board members, she says. With no challengers, an election doesn't have to be placed on the ballot.
Additionally, there has been no mention or agenda item for the establishment of candidate filings at the recent well-attended board meetings.
This year may be different though. Among the baker's dozen of legally-required election notices in the Carrollton Democrat on Dec. 2, is the ambulance district's notice for two open board positions — but actually, there will be third. Sparks officially certified the signatures needed for the recall of both Carrollton board members Caren Bittiker and Dottie Standley, whose seat would've already been open for the April 6, 2021 election.
Former CCAD interim administrator and paramedic Dan Gawedzinski gathered the required 25 percent of voters in each district to trigger the recall. For board president Bittiker, 287 signatures were accepted for her recall; for Standley, 179 were approved.
Candidates filings begin at 8 a.m. Dec. 15 and end at 5 p.m. Jan. 29, 2021 at the county clerk's office. The open seats include: District VI (Carrollton Wards 2 and 3), currently held by Standley; District IV (Carrollton Wards 1 and 4), represented by Bittiker; and District III (Moss Creek, Sugartree, Eugene, Combs and Wakenda), currently served by Janice Miller.
Candidates must be at least 24 years old and a two-year resident of the district, as well as a U.S. citizen. According to the Rules for Missouri Ambulance Districts, recalled board members can run for their seat.