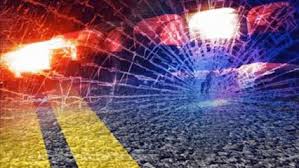 JACKSON COUNTY, Mo.- A four-vehicle collision in Jackson County Monday night left seven people injured. Highway Patrol reports the crash occurred at 6:15 p.m. on southbound MO 7 Highway just north of Stringtown Road.
As two vehicles driven by  Jeffrey Coburn, 26, and Valinda Varns, 67, slowed for traffic, Cory Holcombe, 40, of Blue Springs, Mo., rear-ended the vehicles, sending his vehicle into oncoming traffic. Holcombe hit a vehicle driven by Lynn Linthicum, 41, of Pleasant Hill, Mo., head-on. Cory and passenger, Mark Holcombe, 7, suffered moderate injuries.
Passengers Angelica Holcombe, 17, Elizabeth Holcombe, 15, and Kiefer Holcombe, 11, suffered minor injures. Linthicum, seriously injured, was air-lifted to research medical center. His passenger, Nicholas Linthicum, 10,  suffered moderate injuries and was taken to Children's Mercy Hospital.