DAVIESS COUNTY, Mo. – A Jamesport driver is incarcerated and facing felony allegations in Daviess County.
According to the Missouri State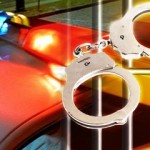 Highway Patrol, Tina M. Ableidinger, 36,  was arrested shortly after 1:30 Saturday afternoon, January 9, 2016, for alleged felony driving while intoxicated by drugs, endangering the welfare of a child, misdemeanor unlawful use of drug paraphernalia and not wearing a seat belt.
She is currently on a 24 hour investigative hold at the Daviess-Dekalb Regional Jail.