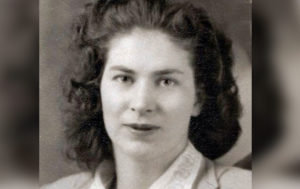 Jean Lucille Jackson Simmons, 97, of Odessa, died Sunday, August 2, in her home and surrounded by her family.
She was born to Murray and Lulu (Weaverling) Jackson on Feb. 8, 1923 in Holden. She graduated from College High School in Warrensburg in 1941. Jean was a member of the First Christian Church in Odessa. On March 10, 1945, she married Chester Alvin Simmons in Olathe, Kan. He preceded her in death on April 18, 1992. Jean was homemaker and helped with the family farm.
Jean is survived by one sister, Vivian Parsons of Warrensburg; a son, Dennis, and wife, Marcia, and a daughter, Connie Lee, and her husband, Danny, all of Odessa. She is also survived by four grandchildren, Matthew Simmons of Columbia, Charles Simmons of Blue Springs, Erin Lee of Belleview, Ky and Alec Lee of Kansas City, Mo.
In addition to her parents and husband, Jean was preceded in death by a brother, Norman L. Jackson.
Visitation will betake place from 10 a.m. to 11 a.m. Wednesday, August 5, at Ralph O. Jones Funeral Home with a funeral service to follow at 11 a.m.  Interment will be in the Odessa Cemetery. In lieu of flowers, the family suggests contributions to Lumicare Hospice of Blue Springs or the Odessa Cemetery Association. Memories of Jean and condolences for her family may be left at the Ledford Family Funeral Home website.